Meezan Bank and Pak Kuwait Takaful Join Hands For Takaful Coverage of Housing Finance Properties
January 1st, 2015
Pakistan's largest and leading Islamic bank, Meezan Bank and one of the country's most prominent Takaful operators, Pak Kuwait Takaful Co Ltd have entered into an agreement whereby Pak Kuwait Takaful will provide Takaful (Islamic Insurance) coverage for the properties financed by Meezan Bank through its housing finance product 'Easy Home'.
At the memorandum of understanding signing ceremony, Mr. Muhammad Raza, Group Head Consumer Banking & Marketing at Meezan Bank said that "Meezan Bank is committed to providing a completely Shariah-compliant and comprehensive product menu".
Syed Waqar Azeem, Head of Marketing & Sales of Pak Kuwait Takaful said that "We are delighted to be partnering with Meezan Bank, which has the largest Islamic Banking branch network in the country and is one of the leaders in the Home Financing sector in Pakistan".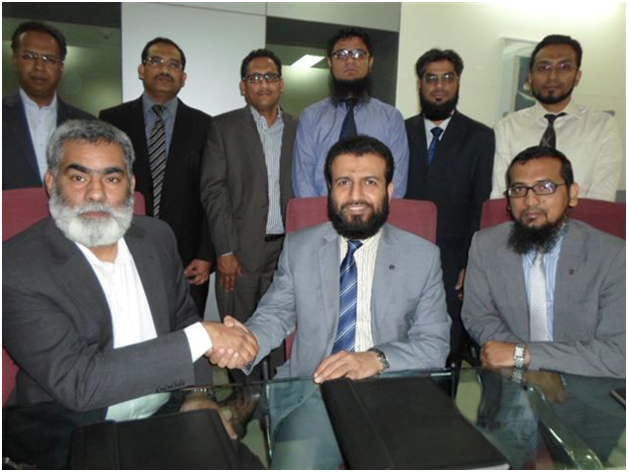 Meezan Bank signs the MOU with Pak Kuwait Takaful for Takaful coverage for their Home Financing product. In this picture, Mr. Muhammad Raza and Mr. Wise Ur Rehman from Meezan Bank can be seen with Mr Syed Waqar Azeem from Pak Kuwait Takaful, along with their respective teams.