Meezan Bank holds 'Winning Together' Cricket Tournament, Celebrating 15 years of Islamic Banking in Pakistan
December 7th, 2017
Alhamdulillah, teamwork and success are hallmarks of Meezan Bank's journey. As an annual celebration of our team work, this year too, Meezan Bank held the 'Winning Together' Cricket Tournament – 2017. The Tournament, based on the theme ' Celebrating 15 Years of Islamic Banking in Pakistan' was held on Sunday, November 26, 2017 at Asghar Ali Shah Cricket Stadium, North Nazimabad, Karachi. 12 teams from South region including interior Sindh (Hyderabad, Mirpur Khas, Sangher, Nawabshah and Sukhur) as well as from the Head Office participated in this annual gala.
Mr. Irfan Siddiqui – President and CEO, Meezan Bank, was the Chief Guest of the occasion. Guest of Honour, Mr. Arshad Majeed – Group Head Consumer Finance, Mr. Mohammad Raza – Group Head Customer Support, Mr. Riaz Ahmed – Head of Administration, Mr. Kazi Mohammad Amir – General Manager Karachi East, Mr. Kamran Zafar – Regional Manager Karachi West and several Senior Executives of Meezan Bank also attended the program. A number of Bank employees also attended the event alongwith their families and enjoyed the event throughout the day.
Participating Teams
All Units of Consumer, Info Security
Operations and Customer Support
IT, HR, Company Secretary
Audit, Compliance, Finance , Legal, PDSC
Admin, RAMD, F&F, Security, Corporate, Investment Banking
Commercial Banking Group & Risk Management Group
Treasury, FI, Home Remittance
Karachi West Region
Karachi East Region
Karachi North Region
Karachi South Region
Hyderabad Region
Tournament Man Of The Round Matches
Noman Bhatti- North region
Ahmed – Human Resource
Yaqoob – East Region
Owais Kazmi – Operation & Consumer support
Sadaqat Ali- West Region
Syed Mujahid Abbass -Admin Dept.
Yaqoob – East Region
Owais Kazmi – Operation & Consumer Support
Khurram – West Region
Osama- IT & ADC
Danish Ali – Hyderabad Region
Javed Iqbal Siddiqui – Consumer and Inf. Securit
Semi-Finals and Final were played under flood lights at Asgher Ali Shah Stadium Karachi. The champion 'Operations and Customer Support Units (combined team)' won the Tournament beating 'Karachi East'.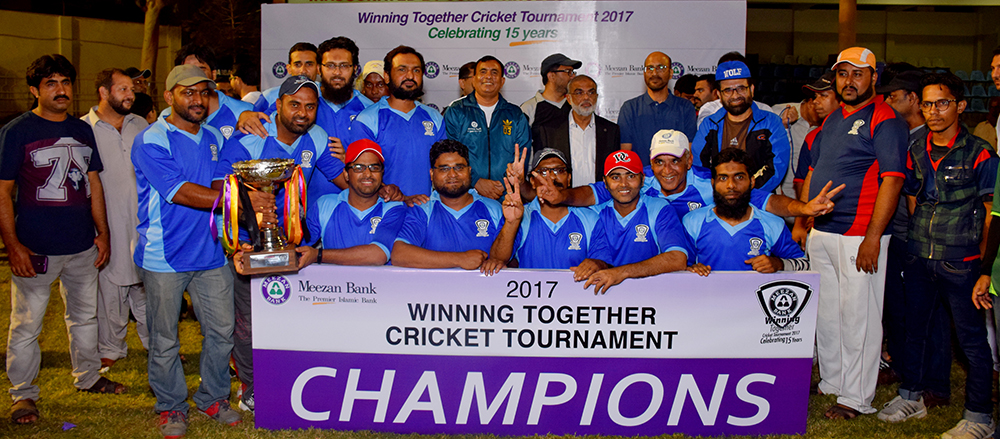 The event also included a host of engaging activities such as lucky draws, gifts for children and refreshment for families. Mr. Fazl ur Rehman of OCS, SBP won 02 Return Air Tickets (couple) to Dubai (arranged by Karachi Bankers Club).
Speaking at the occasion, the Chief Guest, Mr. Irfan Siddiqui congratulated the winning team and appreciated the Meezan staff, their families while also lauding the efforts of the event organizing committee for organizing such an engaging event for the Meezan family.