Meezan Bank launches it new Corporate Website
June 14th, 2016
Meezan Bank, Pakistan's first and largest Islamic bank has recently launched its new and updated corporate website at https://www.meezanbank.com/ . In addition to having an improved and attractive design, the website now has simplified site navigation and upgraded content to allow visitors quick and easy access to information about the Bank's products and services.
Website-based resources such as the Branch Locator, Home and Car financing calculators, IBAN Generator and Knowledge Centre have also been redesigned with a better interface and enhanced features. As before, visitors to the Meezan Bank website can utilize Internet Banking Services and stay updated on the latest news and announcements of the Bank. The re-designed website also provides a consistent experience across multiple devices, screens and browsers.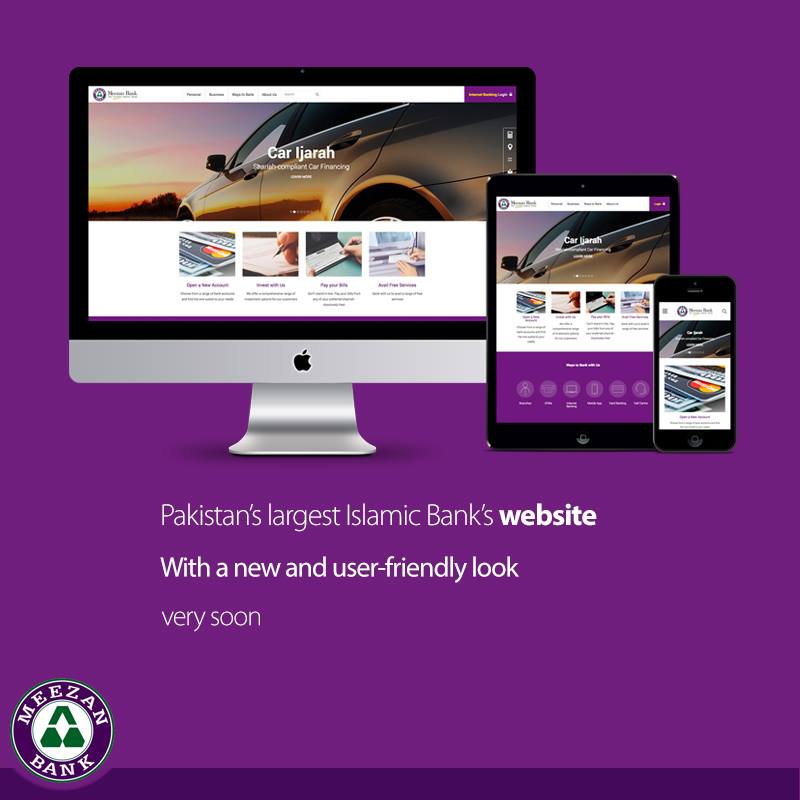 About Meezan Bank
Meezan Bank is the leading Islamic bank of Pakistan. The Bank provides a comprehensive range of Islamic banking products and services through a retail banking network of more than 550  branches supported by a countrywide network of over 500 ATMs, Visa & MasterCard Debit cards, a 24/7 Call Center, Internet Banking and Mobile Banking facility.
Meezan Bank has consistently been recognized as the Best Islamic Bank in Pakistan by numerous local and international institutions, which is a testimony of the Bank's commitment to excellence. These institutions include Islamic Finance News – Malaysia, Global Finance magazine – New York, Asset AAA – Hong Kong, Asiamoney – Hong Kong, The Banker – United Kingdom and CFA Association – Pakistan.
The JCR-VIS Credit Rating Company Limited, an affiliate of Japan Credit Rating Agency, Japan has reaffirmed the Bank's long-term entity rating of AA (Double A) and short-term rating at A1+ (A One Plus) with stable outlook. The rating indicates sound performance indicators of the Bank. Meezan Bank is the only Islamic bank with AA credit rating in the Islamic banking industry in Pakistan.