Meezan Bank named 'Best Islamic Retail Bank' in the World and 'Best Islamic Bank in Pakistan' by Islamic Finance News – Malaysia
January 11th, 2018
Meezan Bank, Pakistan's leading Islamic Bank has been awarded as the global winner of 'Best Islamic Retail Bank' for 2017 by Islamic Finance News of REDmoney Group, Malaysia. This is the second time that the Bank has received this recognition at the global level.
The Bank has also been honoured with the coveted accolade of 'Best Islamic Bank in Pakistan', an award that has been conferred upon the Bank for the 12th time owing to its strength in providing a wide range of Shariah-compliant banking solutions to both retail and corporate customers.
The Islamic Finance News (IFN) Awards honours the best in the Islamic financial industry across the world and are among the most prestigious and recognized awards in the global Islamic finance industry.
Commenting on the awards, Mr. Irfan Siddiqui – President & CEO, Meezan Bank, said: "We (Meezan Bank) started with a dream of establishing Islamic banking as banking of first choice. Ever since our inception, our energies have been dedicated toward establishing Meezan as the pioneer — and indeed, as the gold standard — in an ever-widening array of Islamic financial services, through constant innovation, outstanding service and an unwavering commitment to Shariah-compliance. As we commemorate 15 years of Meezan Bank, it is truly humbling for us to be recognized as not only the Best Islamic Bank in Pakistan, but also the Best Retail Bank in the global Islamic banking industry. All praise is to Allah Almighty for all that we have achieved. We hope and pray that our eff orts at Meezan Bank inspire, enable and foster many more endeavours across the globe, towards better financial solutions for all."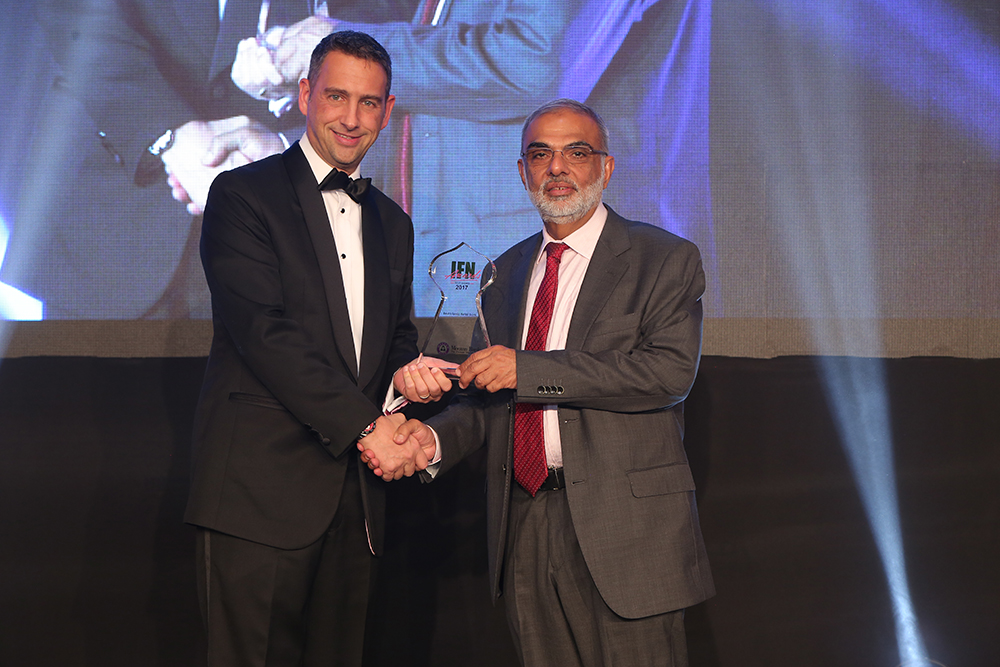 About Meezan Bank
Meezan Bank is the 8th largest bank in Pakistan and the first and largest Islamic bank in the country. The Bank provides a comprehensive range of Islamic banking products and services through a retail banking network of more than 600 branches in over 150 cities supported by a countrywide network of over 580 ATMs, Visa & MasterCard Debit cards, a 24/7 Call Center, Internet Banking and Mobile Banking facility.
Meezan Bank has consistently been recognized as the Best Islamic Bank in Pakistan by numerous local and international institutions, which is a testimony of the Bank's commitment to excellence. These institutions include Islamic Finance News – Malaysia, Global Finance magazine – New York, Asset AAA – Hong Kong, Asiamoney – Hong Kong, The Banker – United Kingdom, South Asian Federation of Accountants, Islamic Finance Forum of South Asian Awards, Pakistan Banking Awards – Dawn & IBP Pakistan, Employers Federation of Pakistan and CFA Association – Pakistan.
The JCR-VIS Credit Rating Company Limited, an affiliate of Japan Credit Rating Agency, Japan has reaffirmed the Bank's long-term entity rating of AA (Double A) and short-term rating at A1+ (A One Plus) with stable outlook. The rating indicates sound performance indicators of the Bank. Meezan Bank is the only Islamic bank with AA credit rating in the Islamic banking industry in Pakistan.