Meezan Bank receives "Best Research and Development in Islamic Finance 2013" award by Global Islamic Finance Awards (GIFA)
November 29th, 2013
Dubai, November 29, 2013: Meezan Bank, the first and largest Islamic bank of Pakistan has received 'Best Research and Development in Islamic Finance" award by Global Islamic Finance Awards (GIFA), London.
This award was presented at the 5th World Islamic Retail Banking Conference organized by Fleming Gulf in Dubai.  Mr. Irfan Siddiqui, President & CEO of Meezan Bank, collected the award. This event was also graced by former Prime Minister of Pakistan, Mr. Shaukat Aziz, President of the Republic of Indonesia, HE Mr. Susilo Bambang Yudhyono and HRH Raja Dr. Nazrin Shah, Crown Prince of State of Perak, Malaysia.
Meezan Bank was selected for this award, after a comprehensive research exercise, for its innovative research and development in the field of Islamic finance.
"Meezan Bank has played a vital role in developing the Islamic banking industry in Pakistan and winning Global Islamic Finance Awards 2013 for Best Research and Development reiterates this. We congratulate Meezan Bank for winning this award," said Professor Humayon Dar, Chairman Edbiz Corporation.
Global Islamic Finance Awards are one of the most prestigious awards in the global Islamic financial services industry. GIFA aims to recognize the success and achievements of institutions and individuals who have contributed to the growth of the industry.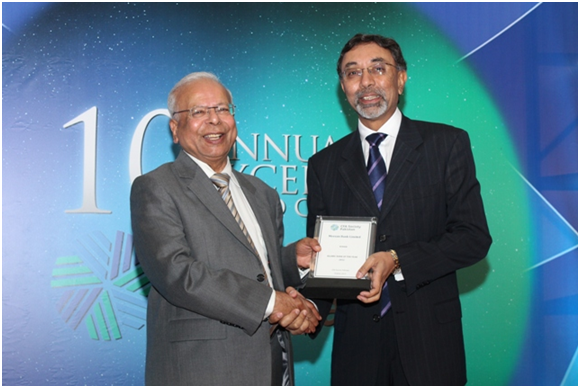 Mr. Irfan Siddiqui, President  & CEO of Meezan Bank receiving the GIFA award 2013 from Professor Humayon    Dar – Chairman Edbiz Corporation and HE Shahid Malik- Former British Minister for International Development.