Meezan Bank receives multiple international awards by Asset Triple A – Hong Kong
June 6th, 2012
Meezan Bank has been awarded Pakistan's 'Best Islamic Bank', 'Best Islamic Retail Bank' and 'Best Islamic Trade Finance Bank' by Asset Triple A Awards, Hong Kong. The Bank has also been awarded, 'Best Islamic Deal – Pakistan' as a Joint arranger for Pakistan Mobile Communications syndicated Islamic finance facility, and 'Highly Commended Deal – Pakistan' as the Lead adviser and arranger for the Kot Addu Power Company short-term sukuk.
The Triple A Awards – an integrated multi-media company serving the community of leading corporate and financial decision makers in Asia since 1999 – recognizes Asia's top financial institutions for excellence in the industry. It has a reputation for delivering authoritative unbiased coverage and independent research of Asia's financial industry.
This is the second consecutive year in which Meezan Bank has been awarded Best Islamic Bank in Pakistan and Best Trade Finance Bank in Pakistan by Asset Triple A. These awards highlight Meezan Bank's continuous growth and successful year of 2011 in which Meezan Bank announced a growth of 106 % in its Profit-after-tax (Dec-2011), a deposit figure of over Rs. 170 billion and held the 9th largest bank branch network in Pakistan.
Al Meezan Investment Management (AMIM), a subsidiary of Meezan Bank, was also awarded the Triple A Asset Award for 'Best Islamic Asset Management House – Pakistan'.
In May 2012, Meezan Bank – the premier Islamic Bank, completed 10 years of Islamic Banking in Pakistan. The Bank has been consistently recognized as the Best Islamic Bank in Pakistan by various local and international institutions over the past several years: Global Finance magazine (2007-2010), Islamic Finance News of RED money Group – Malaysia (2006-2011), Asia Money (2010) and CFA Association Pakistan (2009, 2011). The JCR-VIS Credit Rating Company Limited, an affiliate of Japan Credit Rating Agency, Japan has rated Meezan Bank's short term rating at A-1+ (A-One Plus), the highest standard in short term rating, and a long-term entity rating at AA- (Double A Minus) with stable outlook which highlights sound performance indicators of the Bank.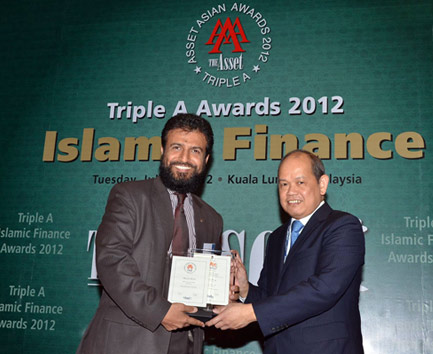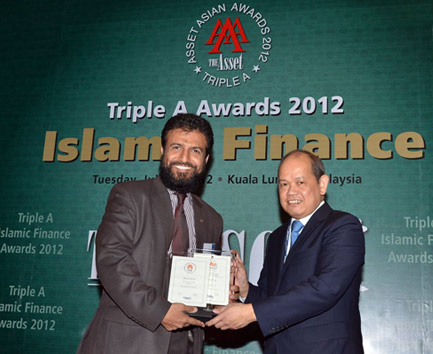 Mohammad Raza, Head of Consumer Banking & Marketing – Meezan Bank, receiving multiple awards including Best Islamic Bank of Pakistan at the Triple-A Awards 2012 ceremony held at Kuala Lumpur, Malaysia recently.