Meezan Bank receives Shariah Authenticity Award by Global Islamic Finance Awards 2015
September 30th, 2015
Meezan Bank has been conferred with the 'Shariah Authenticity Award' at the 5th Global Islamic Finance Awards held at Gulf Convention Centre, Manama, Bahrain.
This is the second time that Meezan Bank has been recognized at this esteemed platform, in 2013, Meezan Bank had received 'Best Research and Development in Islamic Finance'  award. The GIFA awards are among the most prestigious global awards in the field of Islamic Banking and Meezan Bank's nomination for their Shariah Authenticity Award is testimony to the fact that Meezan Bank stands among the topmost Shariah-compliant financial institutions in the world. On receiving the award, Meezan Bank's founding President & CEO – Mr. Irfan Siddiqui said,
"Meezan Bank has a very strong product development team, comprising of Shariah scholars, business graduates and product experts. Their mutual synergy, supported by the oversight of a world-class Shariah Supervisory Board, ensures that Meezan Bank provides its customers with cutting-edge financial products that are fully compliant with the principles of Islamic Shariah. Alhamdullilah, the efforts of Meezan Bank are recognized on GIFA's forum and the Bank has won this reputed award."
Dr. Muhammad Imran Usmani Member of Meezan Bank's Shariah Supervisory Board, said that
"a strong focus on Shariah-compliance is the key contributor in Meezan Bank's success and in its international recognition as a truly Shariah-compliant bank"
. He appreciated the efforts of Meezan Bank's management team towards promoting the cause of Riba-free banking and suggested that they should share their knowledge and experience in this field with other Islamic financial institutions across the world.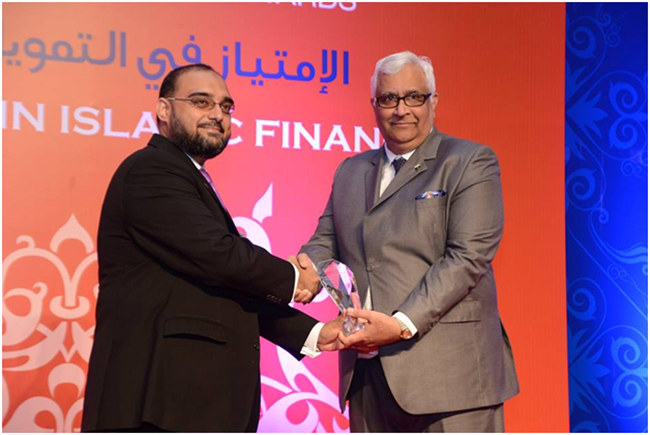 From Left to Right): Mr. Farhan ul Haq Usmani, Head of Shariah Audit and Islamic Financial Advisory, Meezan Bank receiving Shari'a Authenticity Award on behalf of Meezan Bank from His Excellency Muhammad Saeed Khan, Pakistan Ambassador in Bahrain.