Meezan Bank signs agreement with Inov8 for next generation Mobile Financial Services (MFS)
May 9th, 2014
Pakistan's first and largest Islamic bank, Meezan Bank (MBL) and one of the region's fastest growing mobile financial services (MFS) technology company, Inov8 Limited (i8) have entered into an agreement for implementation of a next generation suite of MFS services. Meezan Bank will provide a unique set of multi-channel mobile banking services and smart phone applications with social media integration which is a first in Pakistan, to its fast growing branch and customer base.
Commenting on the occasion, Meezan Bank's Deputy CEO- Mr. Ariful Islam said,"The MFS ecosystem, especially with the advent of 3G/4G and proliferation of smart phones, will play an ever increasing role as a dominant delivery channel for banking services.  Meezan Bank will, Inshallah, be an industry leader in this domain by offering an array of exciting, value-added services." Inov8's Chairman and CEO, Hasnain A. Sheikh said,"We are delighted to be partnering with Meezan, Pakistan's largest and leading Islamic bank.  They will be using our socially integrated next generation mobile financial services platform to offer a new array of products and services."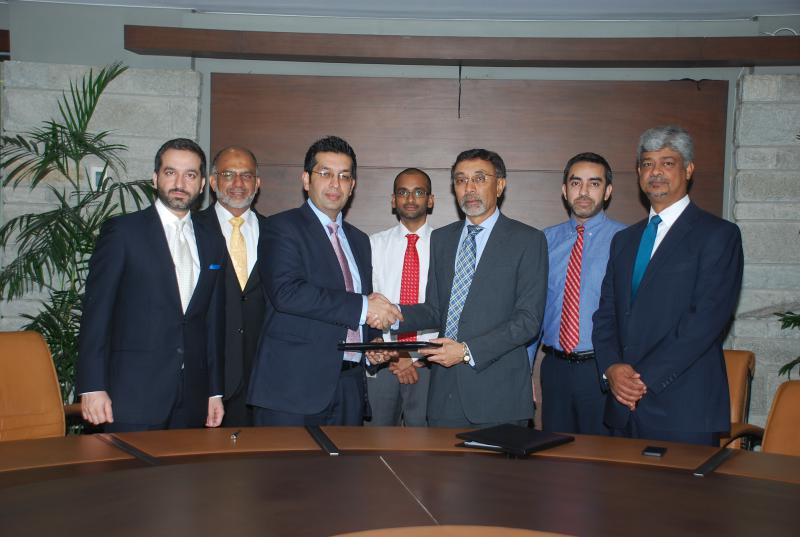 Seen in the picture (from Left to Right are): Mr. Bashir Shaikh-President & CSO – Inov8, Mr. Farooq Sikander-Executive Consultant – Inov8, Mr. Hasnain A. Sheikh – Chairman & CEO – Inov8, Mr. Mohammad Mohiuddin-PM Mobile Banking-Meezan Bank, Mr. Ariful Islam-Deputy CEO – Meezan Bank, Mr. Omer Salimullah- National Manager  ADC – Meezan Bank and Mr. Faizur Rehman Group Head Information Technology- Meezan Bank.