Meezan Visa Platinum Debit Card
Prestige. Privileges. Platinum
Welcome to the world of Meezan Visa Platinum Debit Card - The card that offers unbeatable convenience with enhanced security and round-the-clock accessibility to funds from anywhere across the world. Designed exclusively for the frequent traveller; we offer higher limits to complement your lifestyle so that no matter the miles, you can enjoy the luxury of Meezan's benefits, wherever you go!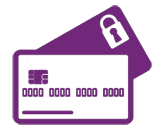 Features & Benefits
Safety and Security
Meezan Visa Platinum Card provides layers of security for your Card, offering you a safe banking experience. It as a Chip-based card that significantly increases data security for your transactions as well as Card information and limits card cloning and fraudulent activities. In addition, Meezan Visa Platinum Debit Card is powered by 'Verified by Visa - a service that offers added online protection while shopping with a number of leading online merchants.
NFC Tap & Go
Meezan Visa Platinum Card is NFC enabled, providing you the convenience to make contactless payments at retail outlets. With a built-in Visa PayWave technology, you can now enjoy faster payments without the hassle of signing transaction slips at all retail outlets supporting the Visa contactless symbol.
Higher Spending Limits
Meezan Visa Platinum Card now offers an enhanced daily limit of Rs. 200,000/- for cash withdrawal and Rs.1,000,000/- for shopping at retail outlets as well as online.
Travel Benefits
Enjoy complementary CIP lounge access at Karachi, Lahore & Multan airports with your Visa Platinum Card.