Meezan Bank is Pakistan's Premier Islamic bank operating with more than 800 branches in more than 240 cities in the country. The Bank has been recognized by various local and international institutes on several occasions for its phenomenal year on year growth, and contribution to the domain of Islamic finance in the region.
Meezan Bank has once again been recognized as the Best Bank in Pakistan at the Pakistan Banking Awards – 2020, the most prestigious award of the country's banking sector. The awards are the highest accolade in the country's financial sector, organized by the Dawn Media Group, Institute of Bankers Pakistan (IBP) and A. F Ferguson and adjudicated through an eminent jury consisting of highly respectable luminaries with substantial experience in the financial sector.
Chaired by Mr. Syed Salim Raza - Former Governor, State Bank of Pakistan (SBP); the five-member jury based its decision on the performance of the banks, thus affirming our commitment towards Islamic banking and consistently delivering higher standards of customer service quality to further elevate service standards.
The Bank has previously been recognized at the same platform as the Best Bank – 2018. With a journey that is just 18 years old, Meezan Bank, is both humbled and delighted at receiving this award. We thank all our customers for their continued patronage and trust in Islamic banking and Meezan Bank!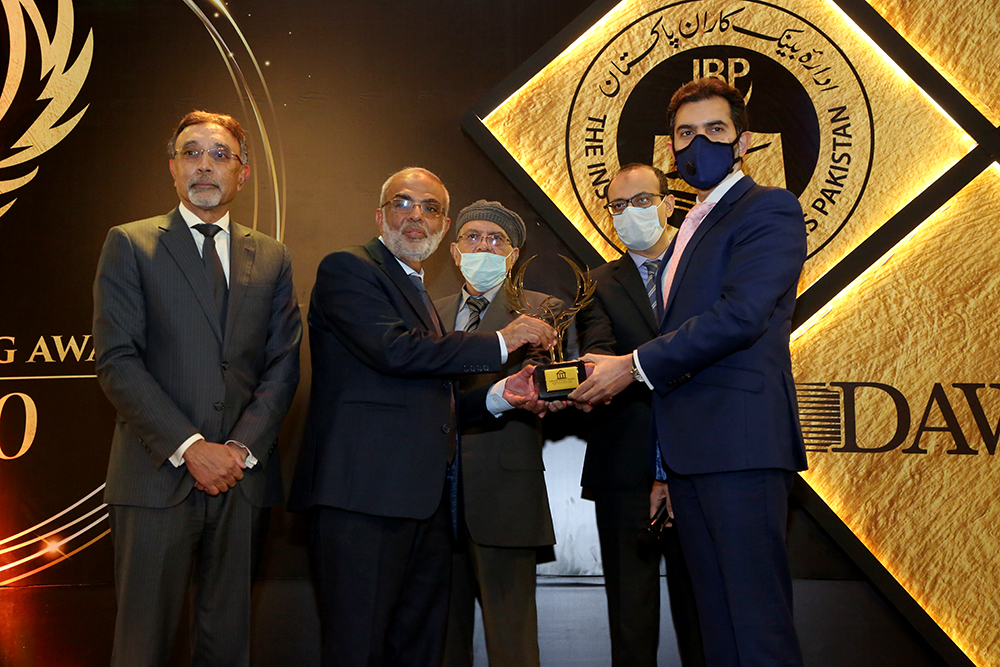 Mr. Ariful Islam - Deputy CEO and Mr. Irfan Siddiqui - Founding President & CEO, Meezan Bank receiving the 'Best Bank' award from Honourable Dr. Reza Baqir - Governor State Bank of Pakistan.