Discontinuation of Meezan ATM/Debit Card after 31st July 2011
February 9th, 2011
This is to inform all customers who are currently holding the Meezan Bank ATM/Debit Card (pictured below) that the operations of this card will be discontinued with effect from day-end 31st July 2011 . This means that the Meezan ATM/Debit Card cannot be used for any transaction on ATMs after 31st July 2011.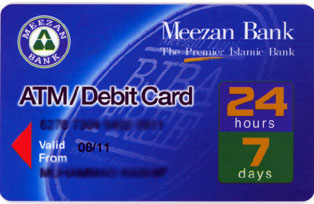 Apply for Meezan Visa Debit Card!
To request for your new Meezan Visa Card, just call our 24/7 Call Center on (021) 111-331-331 or contact your branch.