Meezan Bank awarded 'Islamic Bank of the Year' & 'Corporate Finance House of the Year' for 2014 by CFA Society of Pakistan
September 22nd, 2015
Meezan Bank, Pakistan's first and largest Islamic bank, was awarded 'Islamic Bank of the Year' and 'Corporate Finance House of the Year (Fixed Income)' – 2014 award by the CFA Society Pakistan at its 12th Annual Excellence Awards on 19th September, 2015.
This was the sixth consecutive year that Meezan Bank was awarded 'Best Islamic Bank of the Year' by CFA Society Pakistan which reflects the bank's successful track record and its leadership position in the industry.
The 'Corporate Finance House of the Year' award was given in recognition of Meezan Bank's Investment Banking performance in 2014, where the Bank successfully provided various tailored-made, one of its kind solutions to our corporate clients and delivered syndicated financing transactions of over Rs. 70 billion. Meezan Bank was awarded Corporate Finance House of the Year (Fixed Income) in 2012 also.
The nominee for this award includes all leading commercial banks (Islamic as well as conventional banks) and to be on the top position evidences Meezan Bank's progress towards our vision of 'Establishing Islamic Banking as banking of first choice'.
CFA Pakistan Annual Excellence Awards have earned tremendous following since its launch and are given to the best performing Banks to recognize excellence in the commercial banking industry.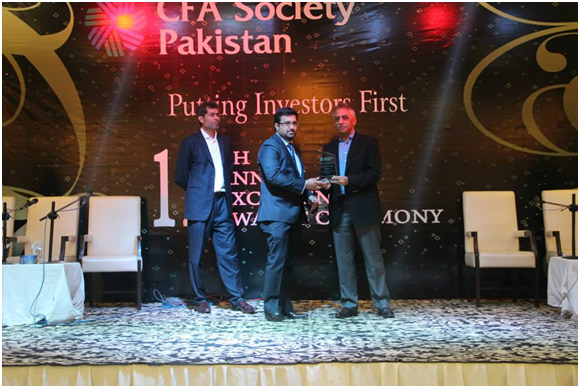 Mr. Urooj ul Hasan Khan – Head of Investment Banking, Meezan Bank receiving award at the CFA Society Pakistan ceremony.