Meezan Bank's Entity Ratings have been upgraded to AAA/A-1+ by VIS Credit Rating Company Limited
July 1st, 2021
Alhamdulillah, Meezan Bank's Entity Rating has been up-graded to the highest possible level of 'AAA' by VIS Credit Rating Company Limited. The 'AAA' rating denotes the highest possible credit quality, with negligible risk factors, being only slightly more than for risk-free debt of the Government of Pakistan.
This rating is a very credible acknowledgement of Meezan Bank's strength and stability and is undoubtedly a landmark achievement for us. This is a moment of delight for the entire Meezan team and we bow our heads to Allah (SWT) for granting us this recognition within a short span of just 19 years since our inception as Pakistan's first full-fledged Islamic commercial bank.
We believe that our sincerity towards the cause of Islamic Banking has been the key factor behind the Blessings of Allah SWT and has earned us this recognition that has strengthened our resolve to uphold our Core Values of Shariah Compliance, Service Excellence and Integrity, Insha'Allah.
The Chairman of our Shariah Board, Hazrat Mufti Taqi Usmani Saheb has also expressed his delight on this landmark achievement, which is an honor not just for Meezan Bank, but for the entire Islamic Banking industry of Pakistan. We are fortunate to have Hazrat Saheb's support and guidance from the very inception of the Bank. His personal handwritten message to the staff of Meezan Bank is attached.
We express our gratitude to the State Bank of Pakistan for their guidance and for their continuous commitment to establish a viable Islamic financial system in the country.
We would also like to express our gratitude to our shareholders, our Board of Directors, members of our Shariah Board and most importantly our customers for their trust in Islamic Banking. We remain committed to our Vision of establishing Islamic Banking as banking of first choice and of taking our standards of service higher than ever before Insha'Allah.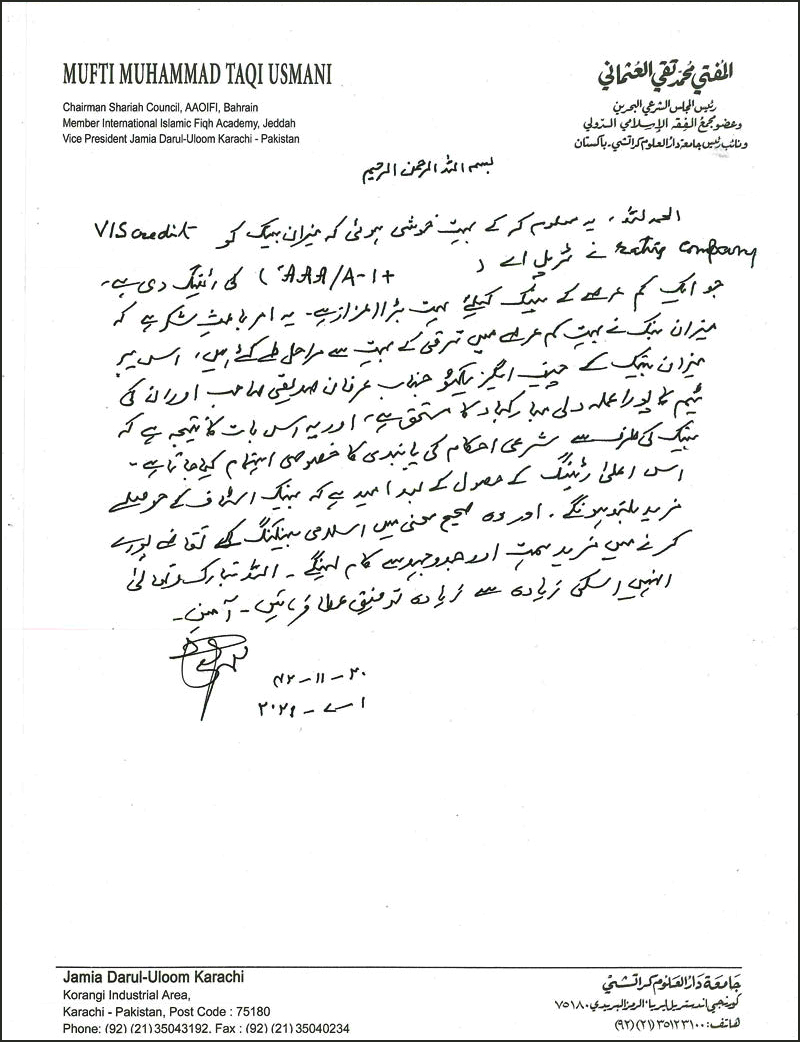 Press Release
VIS Upgrades Entity Ratings of Meezan Bank Limited to AAA/A-1+
VIS Credit Rating Company Limited has upgraded the entity ratings of Meezan Bank Limited ('MEBL' or 'the Bank') to 'AAA/A-1+' (Triple A/ A-One Plus) from 'AA+/A-1+' (Double A Plus/ A-One Plus). The medium to long-term rating of 'AAA' denotes highest credit quality, with negligible risk factors, being only slightly more than for risk-free debt of Government of Pakistan (GoP). The short-term rating of 'A-1+' denotes highest certainty of timely payment, liquidity factors are outstanding and safety is just below risk-free short-term obligations of GoP. VIS has also upgraded ratings of the outstanding Basel 3 Compliant Tier 1 and Tier 2 Sukuk of MEBL at 'AA' (Double A) and 'AA+' (Double A Plus) respectively. Outlook on the assigned ratings is 'Stable'. The previous rating action on the entity was announced on June 30, 2020.
The upgrade in MEBL's credit rating to the highest credit quality is underpinned by MEBL's market positioning in the Islamic Banking segment, as the largest bank holding 37% of segment deposits as of Dec'20, and in the banking sector at large, being 4th largest, in terms of domestic deposits and financings. Given the aforementioned market positioning in the sector and the Islamic banking segment, VIS considers MEBL to be a dominant player in the domestic banking sector, right behind the top-3 banks designated by the State Bank of Pakistan (SBP) as Domestic-Systemically Important Banks (D-SIBs). At present, SBP classifies MEBL as a Sample D-SIBs, and in accordance with SBP guidelines, MEBL has successfully complied with SBP's enhanced supervisory requirements since 2018.
MEBL has achieved its market positioning on the back of consistently stronger growth in deposit growth vis-à-vis industry. In 2020, MEBL's deposit growth was roughly double the industry growth. The Bank has consistently grown its branch network, which stood 825 strong as of Mar21 and several initiatives on the digitization front, translate in a strong franchise value for MEBL. In terms of profitability, the Banks' RoAE, RoAA & efficiency ratios compare favorably to peers. MEBL's liquidity profile is considered strong, as reflected by the Bank's ability to post strong growth in deposits along with an improvement in deposit composition whilst maintaining the lowest cost of funding amongst peers. At present, MEBL's deposit market share stands relatively lower than D-SIBs, albeit given the strong growth in Islamic Banking deposits and MEBL's own historical growth, VIS expects this gap to reduce over time.
MEBL's capitalization metrics have continued to depict improvement on the back of strong profitability, adequate profit retention, and deployment of excess liquidity in low risk weight assets. As of Mar'21, the Bank was maintaining a comfortable cushion over the minimum CAR requirement, set by SBP for D-SIBs.
The assigned rating remains dependent on maintenance of asset quality and capital adequacy, while continuation of strong growth trend and improvement in market positioning has also been factored in the assigned rating.
For further information on this rating announcement, please contact Mr. Arsal Ayub, CFA (Ext: 216) at 92-21-35311861 or fax to 92-21-35311873.
Faryal Ahmad Faheem
Deputy CEO